New Mexico's Wild and Scenic Rivers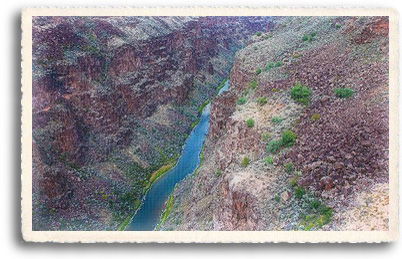 National Wild and Scenic River status is a designation made by Congress for the purpose of protecting naturally flowing rivers from development that would substantially change their wild or scenic nature. The act was sponsored by Sen. Frank Church (D-Idaho) and signed into law by President Lyndon B. Johnson on October 2, 1968. As of 2004, a total of 156 rivers have been designated with wild and scenic status.

Selected rivers in the United States are preserved for possessing outstandingly remarkable scenic, recreational, geologic, fish and wildlife, historic, cultural, or other similar values. Rivers, or sections of rivers, so designated are preserved in their free-flowing condition and are not dammed or otherwise impeded.

Designation as a wild and scenic river does not bestow the same level of protection as National Forest or Wilderness Area designation, its goal is to preserve the character of a river.

The Designated Wild and Scenic Rivers of New Mexico
New Mexico has four designated Wild and Scenic Rivers, which include the Rio Grande, The Rio Chama, the Pecos, and the east fork of the Jemez River. These rivers flow through some of the most breathtaking landscapes New Mexico has to offer.

Rio Grande
The Rio Grande and Red River were among the original eight rivers designated by Congress as Wild and Scenic in 1968. Currently, the designated area includes 60 miles of the Rio Grande from the Colorado / New Mexico state line to just beyond BLM's County Line Recreation Site, and the lower 4 miles of the Red River.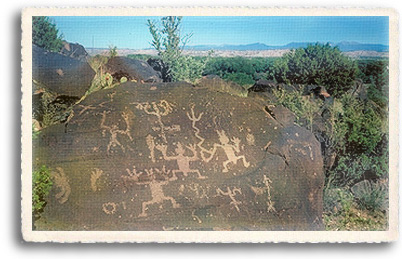 The Rio Grande flows out of the snowcapped Rocky Mountains in Colorado and journeys 1,900 miles to the Gulf of Mexico. In Northern New Mexico, the Rio Grande travels through an 800' deep canyon of steep volcanic walls (the Rio Grande Rift) better known as the Rio Grande Gorge. Much of the gorge cuts through a wild and remote area of Northern New Mexico. The potential of continued volcanic activity in the gorge is evidenced by the number of hot springs that surface next to the river throughout the canyon. The Rio Grande Canyon area is a favorite among fly fishermen and whitewater rafting enthusiasts. The canyon provides a wide variety of recreational opportunities, luring fishermen, hikers, artists, and whitewater boating enthusiasts.

Access in the upper canyon is restricted by the terrain, but several trails lead to the river's edge. The two most popular whitewater segments are the Taos Box, 17 miles of Class IV-V whitewater (runnable season generally from the end of April to mid-July), and the 5 mile Racecourse, a Class III segment (high use season is generally May through August). The lower canyon is paralleled by state roads, and receives the majority of the recreational use.

Depending on the run-off, you'll get anywhere from Class II to Class V rapids in nine different segments of the river. Truly, this is New Mexico's premier whitewater river. Top sections include the Ute Mountain Run (Class II); Upper Box (Class V), the Box (Class III-V) and Race Course (Class II-IV).

A spectacular vista of the Upper Gorge is seen from the High Bridge Overlook. The Lower Gorge Area of "Critical Environmental Concern" covers over 16,000 acres of public land along a 14-mile-long stretch of the Rio Grande from the village of Pilar to the Velarde Diversion Dam.

Recreational Opportunities on the Rio Grande
Recreation opportunities on the Rio Grande in New Mexico include biking, camping, fishing, hiking/backpacking, picnicking, whitewater rafting and kayaking, wildlife viewing, and horseback riding. Observant hikers along the banks of the Rio Grande will come upon petroglyphs (Ancient Indian Rock Art) and fossilized dinosaur tracks.

Rio Chama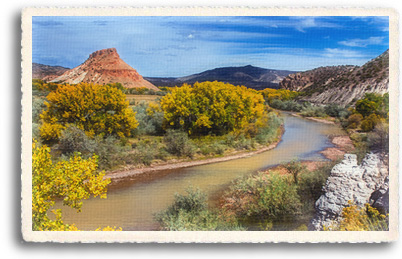 The Rio Chama is a major tributary of the Rio Grande in Northern New Mexico. It flows through a multi-colored sandstone canyon which is at times 1,500 feet deep, and through areas that are designated as wilderness or as wilderness study areas. Towering cliffs, heavily wooded side canyons, and historical sites offer an outstanding wild river backdrop for the fisherman or floatboater.

The river is very popular with fishermen, especially on the upper mile of this river segment, and car camping is popular on the lower 8 miles. Whitewater rafting, kayaking and canoeing are most popular, however, river use has been limited since 1990. Because of the high demand for float trips in late spring and summer, a lottery system has been established to assign launch dates. A float through the entire 31 mile canyon, with all its Class II rapids, can take 2 to 3 days. There are scenic and heavily forested side canyons to explore and quite a few historical sites. Much of this region is designated Wilderness or Wilderness Study Area, making the use of this area fall under wilderness rules and regulations, with the exception of the lower 8 miles of the canyon.

Co-managed by the Bureau of Land Management (BLM) and the U.S. Forest Service, the Rio Chama was designated Wild and Scenic in 1988. Applications for floatboating and rafting permits in the upper canyon can be obtained by contacting the BLM at the address/telephone below. Applications for the lottery must be received by February 1st of each year.

Recreational Opportunities on the Rio Chama
The first twenty miles of the Rio Chama pass through forested canyons where it is accessible only by foot for fly fishing, or by kayak, raft, or canoe from El Vado Ranch located just below El Vado Dam. The lower part of the river is accessible by road; it is popular with whitewater rafters, anglers and campers. Dispersed camping is allowed along the river. The Rio Chama is not a free-flowing river; always check water levels. Most trips on the Rio Chama last two or three days, beginning at El Vado Ranch and ending 31 miles downstream at Big Eddy takeout. A permit is required for trips along the Wilderness section starting at El Vado Ranch. The lower part of the river passes through private land where an access fee is required.

Location: El Vado Ranch is reached via NM 112 from Hwy 84 near Tierra Amarilla. Forest Road 151 just north of Ghost Ranch on Hwy 84 reaches the lower part of the river.

Wild and Scenic Rivers Water and Land Use
Agencies along the banks of Wild and Scenic Rivers may post local access or fire restrictions. Check by phone if you have questions. Winter conditions may be severe. Forest Road 151 is dirt, and not user friendly when wet. Boating use for the upper section of the river is by lottery permit system. Applications and fees available from Taos Field Office in December and January each year..


For More Information Contact:
BLM - Taos Field Office • 226 Cruz Alta Road • Taos, NM 87571 • (575) 758-8851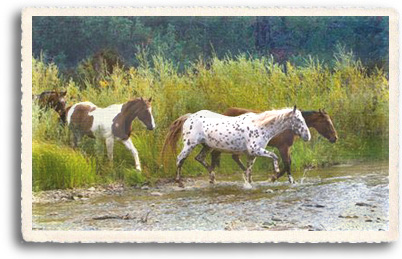 The Pecos River
Famous in the folklore of the Old West, the expression "West of the Pecos" made reference to the rugged frontiers of the Wild West in the latter half of the 19th century. The Rio Pecos played a large role in the exploration of the Southwest by the Spaniards.

The Pecos River headwaters are located north of Pecos, New Mexico at an elevation of 12,000 feet. The river flows from the western slope of the Sangre de Cristo Mountains, through the rugged granite canyons and high alpine meadows of the Pecos Wilderness, forming several waterfalls along the way. The river flows a total of 926 miles through the Santa Fe National Forest in North Central New Mexico and neighboring Texas before it empties into the Rio Grande near Del Rio. The Pecos is one of New Mexico's most heavily fished trout streams.

The Northernmost 12.5 miles of The Pecos from its headwaters to the townsite of Tererro are designated a National Wild and Scenic River. This Ntional Wild and Scenic River status includes 13.5 miles designated wild and 7 miles designated recreational.

The upper reaches of the Pecos flow through deep forest year-round. The river provides seasonal whitewater opportunities for canoeists and kayakers, and excellent year-round fly fishing. Other recreational activities on the Pecos River include mountain biking, hiking, horseback riding, hunting, scenic drives and wildlife viewing.

For information on Pecos River recreational use, contact:
Pecos Ranger Station • PO Drawer 429 • Pecos, NM 87552 • (505) 757-6121



Pictured top right: The Rio Grande runs through a deep canyon in Northern New Mexico

Pictured second right: Petroglyphs on a boulder near the banks of the Rio Grande

Pictured third right: The Rio Chama winds it's way through the red rocks country near Abiquiu, NM

Pictured bottom right: Wild horses on the banks of the Pecos River


More About Whitewater Rafting in New Mexico

Back to Santa Fe Unlimited Scenic Beauty

Back to Taos Unlimited Scenic Beauty